"People come into your life for a reason, a season, or a lifetime."
My friend Liz has definitely come into my life for a lifetime! I often say she saved my life.
I'll never forget the first time I seen Liz. She had just started working at the same company I worked for. It was a split level office, I worked on the bottom floor, and Liz worked on the top. I remember seeing her walking through the office – and thinking "I could be good friends with that woman."
A few weeks later my mom died suddenly. A week later my husband of 15 years told me he didn't love me anymore. (He didn't leave though – that's a whole different story.)
When I returned to work after my mom's funeral I befriended Liz. Or should I say – she sort of got stuck with me? We began walking on our breaks and just getting to know each other.
There was another girl, Karen who walked with us also. Karen was one of the neatest people I ever met. We were friends and did a lot with each other outside of work. Karen was there for a season, as after we stopped working together, Karen no longer fit into our intricate lives. I will always love Karen for the part she played in my life.
The next couple of years my life was a hell that I wouldn't wish on anyone. Between March 1992, when Mom died and July of 1994 – I faced one major challenge after another. To sum it up, My mom, dad & grandmother died, my brother-in-law got murdered, my father-in-law got diagnosed with lung cancer and almost died, my grandfather-in-law died, my daughter got involved in gangs, and on top  my husband telling me he didn't love me, he befriended another woman. I was a bit depressed – as anyone would be!
This is why I say Liz Saved my life. She was there for me. She was a stronghold. I believe she is the perfect example of a great friend.
Liz let me cry if I wanted to cry. She let me laugh if I wanted to laugh. She let me throw fits of anger when needed. She let me be silly when the mood struck me. She let me be me!
I think that's what a true friend is. They let you be you. They don't try to mold you and shape you. They accept you for who you are and where you are at that particular time.
Liz and I shared our deepest darkest secrets as well as our hopes and dreams. We understood each other. We were both struggling in a bad marriage and leaned on each other for support and encouragement.
I knew I could call on Liz any time night or day and she would be there to listen. She never tried to fix me or my problems. She listened. She wasn't upset if I didn't take her advice.
I believe some of the best advice that she gave me was a couple of years after mom died. She said,
"You know Cindy; you are dealing with two totally different griefs. You are grieving over the loss of your mom, and you are grieving over Earl not loving you any more. You need to separate the two – they are two different instances and deal with them separately."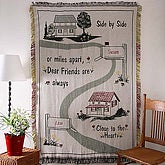 It took a lot of insight for Liz to realize what I was doing. Only a true friend would take the time to make that type of observation.
Liz and I have always told each other "You are the love of my life." And it's true – I will forever love Liz for the person she is today and always.
Liz and I often buy each other Friendship gifts. If you're looking for a special gift for your special friend, check out PersonalationMall. You'll find great items like this Close To The Heart Friendship Afghan
15% off personalized gifts at PersonalizationMall.com! Enter coupon code PM3201 at checkout.